by Christina Sumner and Heleanor Feltham
80 pages with illustrations
Measures 297 x 210 mm
published by the Powerhouse Museum
---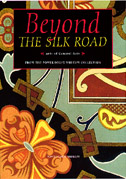 This beautiful book presents the Powerhouse Museum's collection of costumes (dresses, hats, coats, etc.), textiles, rugs, lithographs of designs, and metalwork from Central Asia. The vivid color images are accompanied by essays which look at the nexus between the nomadic and settled cultures of Central Asia and at the history of this region. Also included are black-and-white photographs of Central Asian peoples.

Nomadic and city rugs, silk ikat costumes, embroidered hangings, tent bands and horse trappings reflect the extremes and interactions of tribal and urban lifestyles; while splendid horse-jewellery reflects the key role of these animals in nomad life. The book also includes a series of extraordinary late 19th century Russian chromolithographs showing a range of design elements from tiles to textiles.

Anyone interested in the creative arts (especially those involving intricate geometric patterns) as well as anyone who wishes to explore the cultures of Central Asia (especially Uzbeks, Kazakhs, Kyrgyzes, Brahvis, Uighurs, Turkmen) will enjoy this treasure-filled book from Australia's largest museum.

Reviews:

"Ikats are patterned textiles produced by tying and resist-dying the warp and/or weft threads before weaving, a technique known in many parts of the world. Moved by their bright colors and complex designs, Guido Goldman, a former professor of European studies at Harvard, began collecting 19th-century central Asian ikats... Beyond the Silk Road was published in conjunction with an August 1999-June 2000 exhibition at the Powderhouse Museum's Asian Gallery (Sydney, Australia), which houses Australia's largest collection of textiles and clothing as well as Asian decorative arts and design. Following an overview of central Asian history, the text describes the material culture of the inhabitants, who are either nomads or oasis dwellers, with a focus on textiles. Included are brief details of textile production, various cultural influences on artisans, and costume. Examples of woven and embroidered textiles, including rugs, clothing, horse covers, camel headdresses, and designs for silk ikats, are all showcased. The book is nicely done, but the focus is narrow."
- Judith Yankielun Lind, in Library Journal (2000)

About the Authors:

Heleanor B. Feltham (1942-2013) was employed by the Powerhouse Museum in Sydney, Australia and was a founding member of The Asian Arts Society of Australia (TAASA). Her co-author, Christina Sumner, wrote an obituary of Feltham that appeared in the September 2013 issue of TAASA Review. Sumner is also a co-author of the books Bright Flowers: Textiles and Ceramics of Central Asia and Arts of Southeast Asia from the Powerhouse Museum Collection. In her capacity as a curator until early 2013 at the Powerhouse Museum, where she had worked for 28 years (since 1985), Sumner acquired and curated assorted objects like carpets, tapestries, suzanis, prayer rugs, and quilts.
---
HOW TO ORDER "BEYOND THE SILK ROAD"
This book is now out of print, but sometimes available from used booksellers.
| BOOKSTORE | SHIPS FROM |
| --- | --- |
| Amazon.com | United States of America |
---
Books of related interest:
A History of Russia, Central Asia and Mongolia Volume 1
The Arts and Crafts of Turkestan
Traditional Textiles of Central Asia